To submit to CGC through us, please contact us to arrange a drop-off time or for mail in details. Walk-ins may be subject to delays or refusal.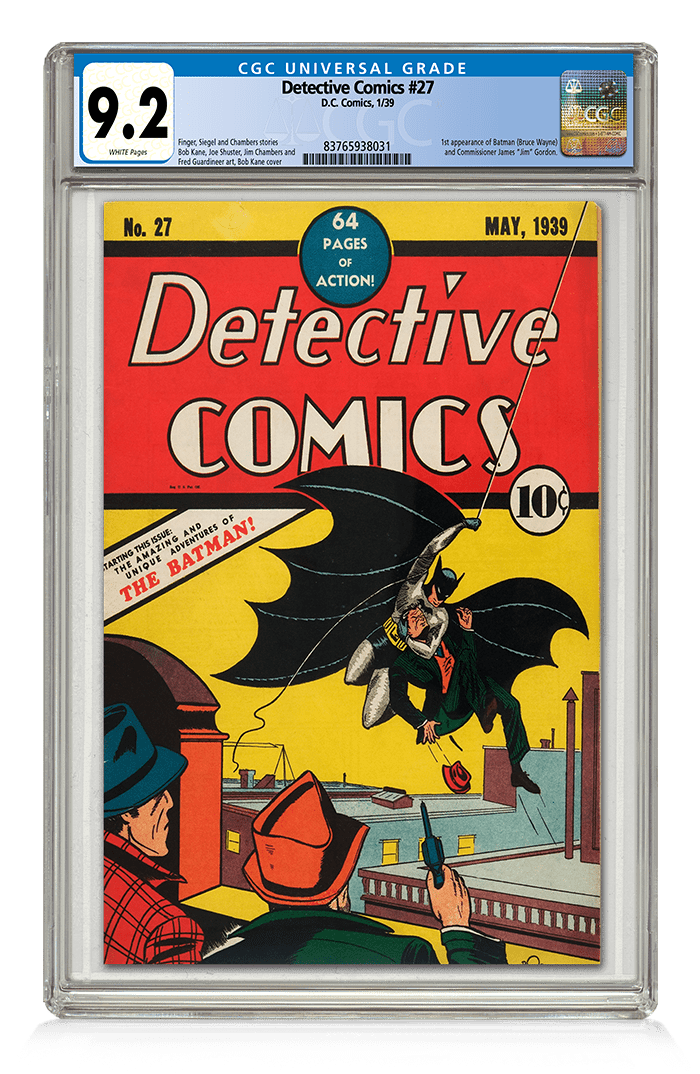 Raygun Comics is a CGC UK Authorized Dealer!
Saving you the expense of CGC membership, the hassle of submitting directly, and reducing your handling fees due to bulk submission.

We can also submit your comics for pressing through CGC's pressing department CCS to get those annoying creases out without risking an amateur fix, and we can send any cracked or damaged graded books you have off to be ReHoldered.

Please Note:
​CGC cannot authenticate signed comics, even with a 'certificate of authenticity'. If you wish to obtain a Signature Series (gold label) CGC comic, you will need a CGC representative to witness the signing of a comic, usually at a comic convention or show.

For trading card turnaround times & fees, please click here.
Turnaround Time & Fees - Comics & Magazines
Current CGC turnaround time: 45 working days (9 weeks)
Pressing and internet imaging will add further time to the turnaround.
Turnaround times are not guaranteed. Please allow an additional 1-3 weeks for drop off and collection on either side of the grading period.

All submissions in the same tier share a handling fee of £13.
A 50% deposit on the grading, pressing and/or reholder fee is taken at time of submission, with the other 50% + handling fee & imaging/custom label fee paid on completion.
Modern

Maximum value £300.

For comics published 1975 to present.

Grading Fee:

£32.00

Pressing fee:

£19.00

Vintage

Maximum value £300.

For comics published pre-1975.

Grading Fee:

£45.00

Pressing fee:

£37.00

Grading Fee:

£96.00

Pressing fee:

£80.00

Grading Fee:

4.8% of Fair Market Value
(£150 minimum fee)

Pressing fee:

4.8% of Fair Market Value

(£150 minimum fee)

Extra Services

Other services available through CGC.

ReHolder

Max. Value £750 - £32.00

Value over £750 - £60.00

Internet Imaging
£5.00

Custom Label
£5.00
CGC Glossary & Details
Value/Fair Market Value
The value of your book before grading. This will be determined using recent online sales data and the Overstreet Price Guide.
Handling Fee
A handling fee of £13 is applied by CGC to all books submitted in the same tier.
For example:
4 comics submitted under Modern will each carry a handling fee of £3.25.
2 comics submitted under Express will each carry a handling fee of £6.50.
This fee is split between all customers making submissions at the same time. Pressing in addition to grading splits the book onto a different invoice, meaning it does not share the handling fee with non-pressed submissions. ReHolders also carry the £13 handling fee.
Slab
Slang terminology for a CGC graded book. 'Slabbing' means submitting your book for grading.
About CGC:
Certified Guaranty Company™ (CGC) revolutionised the comic book marketplace when it was founded in 2000 by providing clear, objective and impartial assessments of authenticity and grade. Today, CGC is the world's largest and most trusted third-party grading service for comics, magazines, concert posters and related collectibles with more than 5 million collectibles certified since 2000.